National dialogues aim to provide a space to discuss a broad range of issues relevant to the wider society, expand participation beyond political and military elites and (re)build relations among different actors. Get insights into how to define, design and support them by participating in our National Dialogue & Peace Mediation course.

Offered in collaboration with the Berghof Foundation and the University of Basel, this course will take place at the kHaus (Basel) from Monday 8 to Friday 12 May 2023.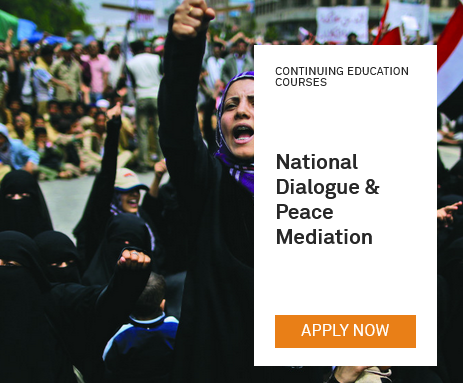 Leading international experts facilitate this course:
Ahmed Eleiba, Senior Program Officer Mediation Program, swisspeace (Course Lead)
Narine Karapetyan, Mediation and Negotiation Advisor Global Learning for Conflict Transformation, Berghof Foundation (Course Lead)
Emmanuel Habuka Bombande, Senior Mediation Advisor, Standby Team of Senior Mediation Advisers, United Nations Department of Political and Peacebuilding Affairs
Rachel Gasser, Senior Advisor, Berghof Foundation
Dr Dhamir Mannai, Independent International Consultant
Sonja Neuweiler, Head of Middle East and North Africa Unit, Berghof Foundation
Dr. Dana Landau, Senior Researcher Mediation Program, swisspeace
Philipp Lustenberger, Co-Head Mediation Program, swisspeace
Feel free to share this information in your network and please contact academy@swisspeace.ch or visit our website for further information. Many thanks in advance.