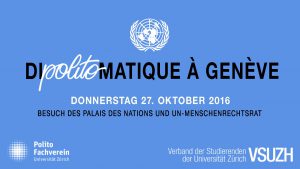 Der FV Polito lädt Dich ein, am Donnerstag 27. Oktober 2016, den Palais des Nations und den UN-Menschenrechtsrat in Genf zu besuchen. Nutze diese einmalige Chance einen Einblick in die Diplomatie zu gewinnen und Dich mit Vertretern des EDA's und NGO's über das internationale Geschehen auszutauschen. Die Teilnehmerzahl ist begrenzt, es gilt: first come – first serve. Melde Dich also noch heute an!
Programm:
| | |
| --- | --- |
| 07:15: | Treffpunkt Zürich HB |
| 11:00: | Austausch mit Benjamin Müller, First Secretary Office of Human Rights EDA |
| 14:00: | Führung durch den Palais des Nations |
| 15:30: | Diskussion- und Fragerunde mit NGO's zur Tagung Business and Human Rights |
Verbindliche (Einzel-)Anmeldung bis 21.10.2016 mit Vor- und Nachname, sowie der Angabe ob Halbtax/GA vorhanden an polito@ipz.uzh.ch. Weitere Informationen bezüglich des Anlasses erhaltet ihr via Mail.
An-, Rückreisekosten und der Besuch im Palais des Nations werden vom FV Polito und dem VSUZH finanziert.
Dein FV Polito